All are invited to worship with the community and to experience  the peace emanating from this special place.  The Chapel is always open for prayer and meditation.
Worship services are held on Sundays at 8:30 am across the entire year, with a second worship service at 10 am from the Sunday of Memorial Day weekend through the Sunday of Labor Day weekend.
Special worship service times on Thanksgiving, Christmas and Easter, and for other special events, will be announced well in advance for planning purposes. Communion is served at services on the first Sunday of each month.
Seating indoors is on a first-come, first served basis. Outdoor seating is also available in the courtyard. We recommend bringing bug spray during the warmer months if you chose to sit outside.
Wearing of a mask is optional.
Check the Event Calendar for the dates and times of services.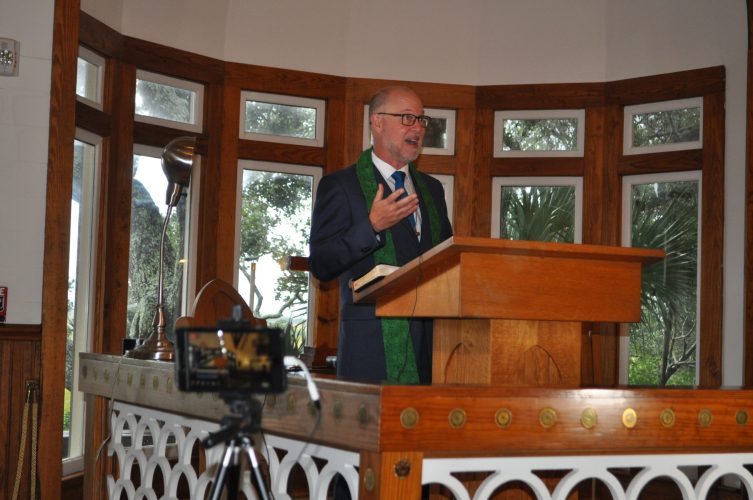 So that the Chapel remains truly ecumenical in spirit, services are conducted by visiting ministers, both active and retired, from all denominations, who have been recommended by Island property owners.
Recommendation forms for visiting ministers can be downloaded here.
January 22 – Shawn Blackwelder
St. Paul's United Methodist Church
Carolina Beach, NC
 January 29 – Rev. Ronald Shive
First Presbyterian Church (Retired)
Burlington, NC
February 5 – Rev. Will McLeane
Edenton Street United Methodist Church
Raleigh, NC
February 12 – Rev. Shane Benjamin
United Methodist Church (Retired)
Louisburg, NC
February 19 – Rev. Alex Kennedy
Carmel Baptist Church
Matthews, NC
February 22, Ash Wednesday – Garrett Albertson
Trinity United Methodist Church
Southport, NC
February 26 – Rev. Charlie Lee
Starmount Presbyterian
Greensboro, NC
March 5 – Rev. David Mallory
Disciples of Christ (Retired)
Raleigh, NC
March 12 – Rev. David Horner
Providence Baptist Church (Retired)
Wake Forest, NC
March 19 – Chaplain Michael Charles
US Army, Retired
Lexington, SC
  March 26 – Rev. Chandler Ragand
Black Mountain United Methodist Church
Montreat, NC
The Chapel offers special services at Easter and Christmas, as well as other choral and musical programs throughout the year. Please check the Event Calendar for exact dates and times.
The Chapel also hosts other special services, including baptisms, weddings, and memorials.  These events are scheduled through the Chapel Office, which will provide additional information and guidelines.  The Chapel Board of Trustees sets the policies and procedures to maintain the integrity of the Chapel. These services are also included on our Event Calendar.