All are invited to worship with the community and to experience the peace emanating from this special place. The Chapel is always open for prayer and meditation.
Sunday services in the summer are held at 8:30 AM and 10 AM. Off-season from November 24th to Easter Sunday there is an 10:00AM service only. Communion is served at services on the first Sunday of each month.
Seating indoors is on a first-come, first-served basis. Those not able to sit inside can sit outside the Chapel where audio will be broadcast (please bring a chair and bug spray).
If you are at risk or not fully vaccinated, please wear a mask.
Check the Event Calendar for the dates and times of services.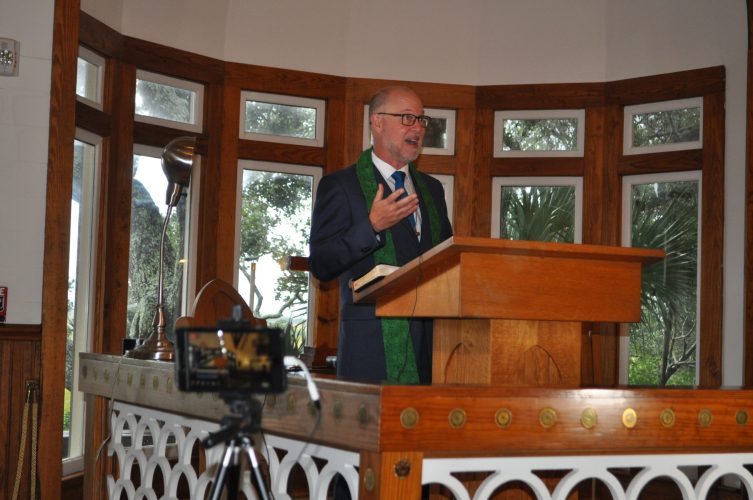 So that the Chapel remains truly ecumenical in spirit, services are conducted by visiting ministers, both active and retired, from all denominations, who have been recommended by Island property owners.
Recommendation forms for visiting ministers can be downloaded here.
Upcoming Visiting Ministers:
(Services will be held at 8:30 a.m. and 10:00 a.m. until Labor Day)
 July 24 –Rev. R. Kevin Kelly
St. Michaels and All Angels Episcopal Church
Savannah, GA
July 31 – Rev. Jonathan Cockrell
Renovation Church
Hampstead, NC
August 7 – Rev. Dr. Garrett Albertson
Trinity United Methodist Church
Southport, NC
August 14 – Mr. J. Brent Bill
West Newton Friends Meeting (Quaker)
Indianapolis, IN
August 21 – Rev. Curtis Campbell
Harbor United Methodist Church
Wilmington, NC
August 28 – Rev.  Ann Rex
Ret.  United Methodist Church
September 4 – Rev.  Dr. Steven Hein
Presbyterian Church, Retired
Wilmington, NC
(8:30 A.M. and 10:00 A.M. this weekend.  Folling labor day ALL services will be at 8:30.)
September 11 – Rev. Thomas Whartenby
Galax Presbyterian
Galax, VA
September 18 – Rev. Sid Batts
First Presbyterian Church, Retired
Southport, NC
September 25 – Rev. William McLeane
Edenton Street United Methodist Church
Raleigh, NC
October 2 – Rev.  Dr. Scott Suskovic
Christ Lutheran Church
Charlotte, NC
October 9 – Rev. Alex Kennedy
Carmel Baptist Church
Matthews, NC
October 16 – Rev. Laura Fine Ledford
Apex United Methodist Church
Alex, NC
October 23 – Rev. Adam Snell
St. Paul's United Methodist Church
Kensington, MD
October 30 – Rev. Laura Mitchell
Wrightsville Trinity United Methodist Church
Wrightsville Beach, NC
 No signup required. Seating first-come, first-served inside. 
Bring a chair and bug spray for outside seating.

The Chapel offers special services at Easter and Christmas, as well as other choral and musical programs throughout the year. Please check the Event Calendar for exact dates and times.
The Chapel also hosts other special services, including baptisms, weddings, and memorials.  These events are scheduled through the Chapel Office, which will provide additional information and guidelines.  The Chapel Board of Trustees sets the policies and procedures to maintain the integrity of the Chapel. These services are also included on our Event Calendar.